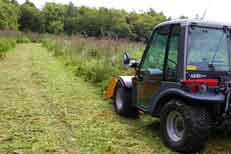 Our business goes beyond just grass topping and rolling. We offer a full range of services that can help any landowner to improve the quality and quantity of their grassland, and enhance the appearance of their land and properties.
We work with individual horse owners, large riding schools and studs, as well as national organisations.
To find out more about the services we provide either go to our equestrian services section or the Conservation services pages.
The equipment we use is specially designed to handle steep ground with poor accessibility. The compact tractor we use is manufactured in Switzerland.
As you can see from the photo, the tractor is smaller than a conventional tractor and has wide low ground pressure tyres with a low centre of gravity, which makes it much safer to use on steep ground.